What is This Cryptocurrency? Maker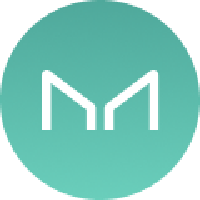 The Maker token is a specific token used on the Maker platform. The Maker project is built on the Ethereum chain and the purpose of the project is to help keep a specific stable coin at the $1 valuation. Through several actions such as feedback mechanisms and community involvement including the voting decision, Maker is able to keep the stable coin rather stable.
Maker also makes sure that the amount of tokens in circulation allow for the price of the stable coin to remain stable. Maker seems to be a support project that helps keep a stable coin stable. The token also can be used to pay for transaction fees on the Maker project. The Maker token also helps those who have the token to vote on decisions concerning the Maker protocol.
Maker is a cryptoccurency with a total price of about $470. The cryptocurrency has a circulating supply of 1 million. The 24 hour volume in $9.5 million while the market cap is $510 million.
* This is not investment advice. If you want to buy or invest in cryptocurrencies, you need to research information prior to making an informed decision.