Psalm 42 for the Beginning of September
It seems like we have gone through so much in less than eight months. This year has packed so much into it that it is difficult to go through every single piece without feeling a little tired. For this reason, our hope and faith should be made stronger in the Creator. Everything is being done for a purpose greater than we can imagine. When we see the surface, we may only see despair and anxiety. If we attempt to see deeper, we see the LORD working all things for our good.
Do you remember the story of the Israelites exiting Egypt? When the sea stood between home and Egypt, the LORD made a way and directed Moses to lead His people home.
Do you remember the story of Shadrach, Mechach, and Abednego? When the Mesopotamian king wanted them to worship a false idol and to kneel down? When their lives were on the line for their faith in the LORD, the Angel of the LORD guided them through the fire to safety.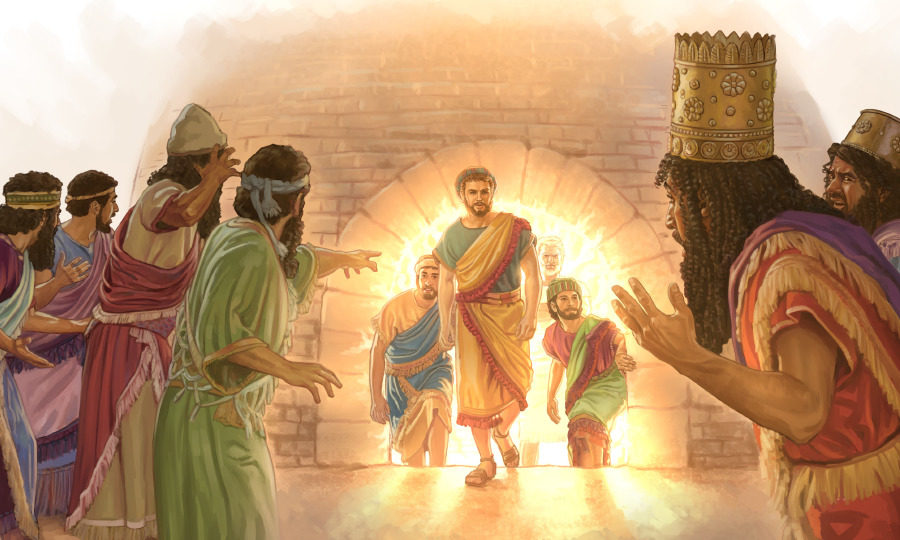 Do you remember the story of Daniel who was told he could not worship his Lord? When he was placed in a lion's den, and the LORD closed the mouth's of lion until he was set free and his enemies were fed to the lions.
Do you remember the story of Jesus who was crucified for speaking against the establishment of the time? The LORD resurrected him, and he is sitting on the right hand of the LORD waiting to return in Glory.
Do you remember the story of Paul? Who was persecuted for his belief and abandoning everything from his studious life of a Pharisee and inquisitor of the Christians? The LORD blinded him and appeared to him to change his ways, and Paul wrote the most books in the New Testament.
Do you remember the story of Ruth who was left a widow? Yet she found a way to righteously make a living and led to the lineage of King David?
Do you remember the story of David who was persecuted by his own king for defeating a giant and increasing confidence in Israel's men? He obtained favor by the LORD for his faith, became king, and allowed Israel to defeat the neighboring nations that were hostile towards Israel.
Do you remember the story of Peter? The hot headed apostle who was too passionate and denied the LORD three times, yet the LORD forgave him three times and made him a pillar in the realm of evangelism.
Do you remember John who lived out his life in exile on the island of Patmos, Greece? The LORD appeared to him in a vision and showed him the Revelation of Jesus Christ and gave believers a heads up on what would occur in the end of days?
It may appear that with all the gloom and doom going around, that is all that is left.. but it is NOT!
When you have the LORD there is no room for gloom and doom (hey triple rhyme…), there is only room for joy and peace of mind. We know that the LORD is there to comfort us in our afflictions, doubts, and anxieties. When we may feel at our lowest, the LORD is ready to use us for His highest purpose.
King David wrote Psalm 42 concerning possible events that were not favorable. Yet his tone is positive because he understands that the LORD is in control. There is no reason to fret.
"As a deer pants for flowing streams, so pants my soul for you, O GOD."
The line tells use that David understands that the LORD suffices our thirst for life and living waters. We are spiritual beings that are housed in a material composition, yet we understand that we need spiritual nourishment as well. Our souls long for the LORD because it is only He that can provide us our spiritual nourishment.
I like burgers and although there is always difficulty deciding what burger place to eat, I know that there will be options. Whataburger, Burger King, McDonalds, and small restaurants offer choices. However, when it comes to spiritual nourishment, I know there are no multiple options. There is only the option as David helps us see.
"My tears have been my food day and night, while they say to me all the day long, 'Where is your GOD?'
Have you ever had someone question your belief and relationship with the LORD? I have like many believers. He is in the Heavens and everywhere as we are all His creation. Yet sometimes this goes over their head as if everything was created by random chance. As a believer, you know you have been mocked as David has been mocked for his belief. Jesus was also mocked when He was giving his greatest sacrifice for humanity: expropriation for our sins on the cross.
It may appear that way, but the reality is that the LORD is with us always. The LORD was with David because he was able to survive the attacks from King Saul and the stalking by Saul. The LORD was with Jesus because He brought Him back to life within three days of his burial in a stone and grave that could not contain Him. He is with us because He has not abandoned us and has kept us through the worries and cares of this life and will continue to do so.
"These things I remember, as I pour out my soul; how I would go with the throng and lead them in procession to the house of GOD with glad shouts and songs of praise, a multitude keeping festival."
Eventhrough it all, even through the difficulties and disappointments, insults, mockeries, scorn, envy, hatefulness, I will praise the LORD. David suffered all of these, and He still praised the LORD and would continue to praise the LORD.
"Why are you cast down, O my soul, and why are you in turmoil within me? Hope in GOD; for I shall again praise him, my salvation and my GOD."
David questions his own sadness. Why are you sad? That is a silly question to the realist or arm chair philosopher, right? The circumstances, the situations, the unfavorable change that something did not go as planned? But even through that, I will worship you LORD. David acknowledges that life throws unexpected choices. Yet, it is alright because the LORD is with us. I will praise Him because He is my salvation and my GOD. Regardless of the in between stuff, David's eyes were set on the Heavens. They were set on the LORD. Whether he was going through circumstance A, B, D, E, or K it did not matter because his eyes were seeing the LORD in action.
Even when it all seems to go unfavorably, our eyes should be set on the LORD. We should remember to praise Him in every circumstance because He is a waymaker. Whether He was making a path through Egypt, or softening the heart of an Egyptian princess to take in a baby Moses, or walking through the fiery furnace to guide three men, or providing for the widows and orphans, or shutting the mouths of lions, or giving supernatural strength to a man to defeat an army, or providing wisdom to a queen to defeat her enemies, or providing the Holy Spirit for the apostles, GOD makes a way where the world says there is no way. Our LORD is not of this world but created the world. Jesus stated his kingdom is not of this earth, but a Heavenly kingdom. So should we wait until the news are on so we can know what to do, or should we open our Bibles and pray? All I know is David did something right to have gone from a shepherd to a king, and Jesus must have done something right do have gone from a shepherd to a king. They both had intense faith in their Heavenly Father.